---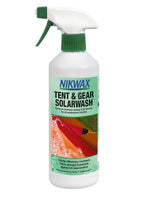 Nikwax Tent & Gear SolarWash Spray-On Technical Cleaner 500ml
Nikwax detergent for all weatherproof textiles made of artificial fibers, cotton and canvas, incl. tents, awnings, sun sails, backpacks, bike, motorcycle- and camera bags.
Features of Nikwax Tent & Gear SolarWash:
Effective cleaning
Extends the lifetime of tents by up to 50% using a simple cleaning process
It improves material resistance and provides protection against material degradation due to harmful UV radiation
Refreshes the water-repellent properties and preserves them
Protection against sun and rain equally
Cleans up to 3 times before post-impregnation is necessary
UV light and dirt are the main causes of material decay in tents. The harmful UV rays "attack" the substance, reduce its tear resistance and bleach it. In addition, dirt impairs the water-repellent impregnation and ensures that the material absorbs water. Also the DWR will not adhere properly to the fabric, making it susceptible to mold.
The Nikwax Tent & Gear SolarWash is a water-based cleaning spray for tents and outdoor equipment made of fabric. It protects against harmful UV rays and simultaneously removes dirt. In contrast to normal detergents, it leaves no residues which could impair the water-repellent DWR impregnation.
Like all technical cleaners from Nikwax, Tent & Gear SolarWash does not just clean - it brings additional advantages: already a single cleaning process improves the resistance of the tent material against harmful UV rays by fifty percent! In addition, the DWR impregnation can be refreshed over up to three cleaning operations. And if a post-impregnation is pending, Tent & Gear SolarWash is the ideal preparation for this. The best: these fantastic features could be achieved without the use of environmentally-persistent, hazardous chemicals!
Ideal for:
All watertight/water proof textiles including cotton, canvas and synthetic fiber. Recommended for tents, awnings, sun sails, umbrellas, backpacks, cycling motorbikes and camera bags.